Faucon Car Mascot
Sold Out
Sold Out!
Sold Out!
A dramatic early 20th Century French clear and engraved René Lalique Art Deco glass car mascot of a stylised standing falcon. This imposing study is in excellent condition with good detail. Moulded signature R Lalique France

Faucon
Falcon
Catalogue Number: 1124
Signature identification: "R. Lalique France" moulded in relief between tail feathers and back claws
Date introduced: August 5, 1925
Dimensions: 15 cm high

Felix Marchilac Catalogue Raisonné Page 498
Sorry, this item has been sold. If you would like information about similar items please contact us on 07971850405 or make an enquiry via
email here
.
Add to Wishlist
Additional Information
| | |
| --- | --- |
| Height | |
| Condition | |
| Circa | |
| Materials | Clear Glass |
| Book Ref | R.Lalique – Catalogue Raisonné by Felix Marcilhac |
| Page No. | 498 |
Lalique were always experimenting, producing vases, statues, dinnerware etc. Adding car mascots to his production in the late twenties. A full range of the Twenty nine mascot designs were produced to grace the sleek cars. All were made from high quality glass. Provisions were made for them to be illuminated by special metal mounts.
The popularity of the car mascots were such that Lalique commissioned the Breves Gallery in Knightsbridge to supply them to British customers. Their names were placed on the side of the mounting. Priced from 2 pounds twelve and sixpence for a mounted Victoire or 'Spirit of the Wind'. Breves had the world rights to market Lalique mascots. Though the range of car mascots numbers 27 in the 1932 Lalique catalogue, Breves gallery offered the Small Mermaid in their own catalogues as a car mascot, and also are believed to have offered the larger Mermaid, making a total of 29 in all. These two pieces were actually offered as paperweights from Lalique, but the bases are exactly the same two sizes as all others in the range, and appropriate for use with any fine car; these are especially pleasing in opalescent glass.
The Faucon car mascot is one of the most iconic Art Deco images and was particularly popular on the front of Bentley cars fitted in a Breves Gallery collar: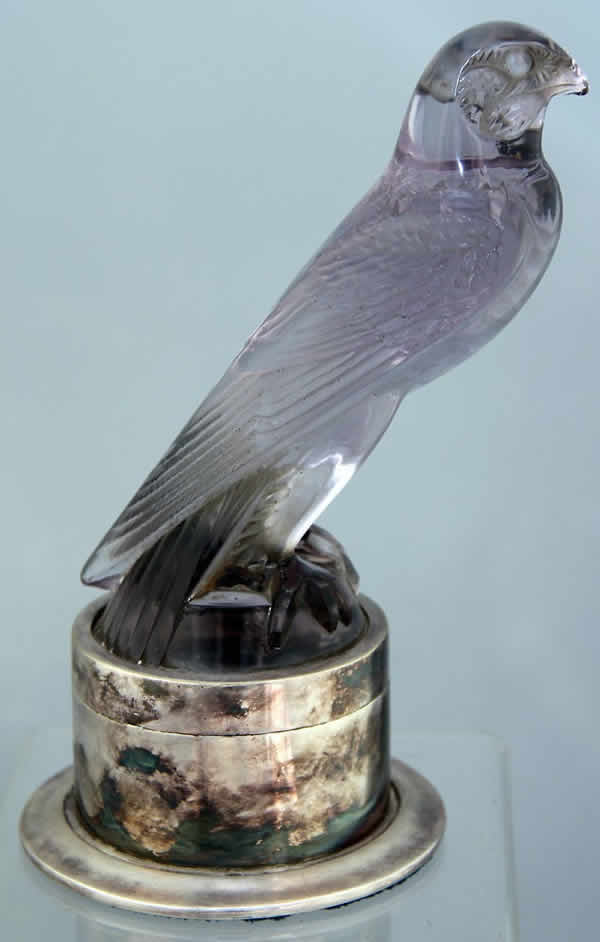 If you are interested in similar Art Deco glass mascots please select here to view our full selection of Rene Lalique car mascots.
Rene Lalique 'Faucon' signed R.Lalique is a very sought after item, which can also be viewed on Lapada here.